PTG Coating suger machine line
This line is used for coating sugar on corn flakes and other human food to make it different flavor.it includes hoister, sugar melting machines, sugar spraying machines and sugar coating machine.
Brand:Zhuoheng
Product origin:Jinan City ,Shandong Province ,China
Delivery time:7-15working days
Supply capacity:100-150kg/h 200-250kg/h 300-500kg/h .....

PTG Coating suger machine line
Sugar coating machine is the production of breakfast cereals cornflakes, puffed ordinary snack foods, fried snack foods coated with sugar and special equipment. Material by hoist into the drum, spray spraying sugar candy machine in the drum, so that the material surface layer of sugar evenly sprayed film; hot air non-stop sugar coating to the cylinder body of blowing hot air to ensure that the spray atomization sugar in a short time It does not crystallize; coated candy machine by turning the inner tube, to make the purpose of the product surface evenly coated sugar, and continue to spray uniform product delivered to the feed opening, to ensure good product particles are coated candy effect. Spraying line simple sugar, spices uniform, smooth operation, the production of extruded snack small food necessary equipment.

Our company has already exported countries:
Asia { Thailand, Indonesia, East Timor, South Korea, India, Bangladesh, Iran, Saudi Arabic, Turkey, Iraq, Israel,
Kazakhstan, Tajikistan, Uzbekistan, Turkmenistan }
Africa { Nigeria, Benin, Algeria, Egypt, Ethiopia, Ghana, Namibia, Uganda, Zimbabwe}
Europe { Russia, Bulgaria, Ukraine.Poland,Sweden }
North America { Canada }
South America { Brazil, Bolivia }
Oceania { New Zealand }
Our Service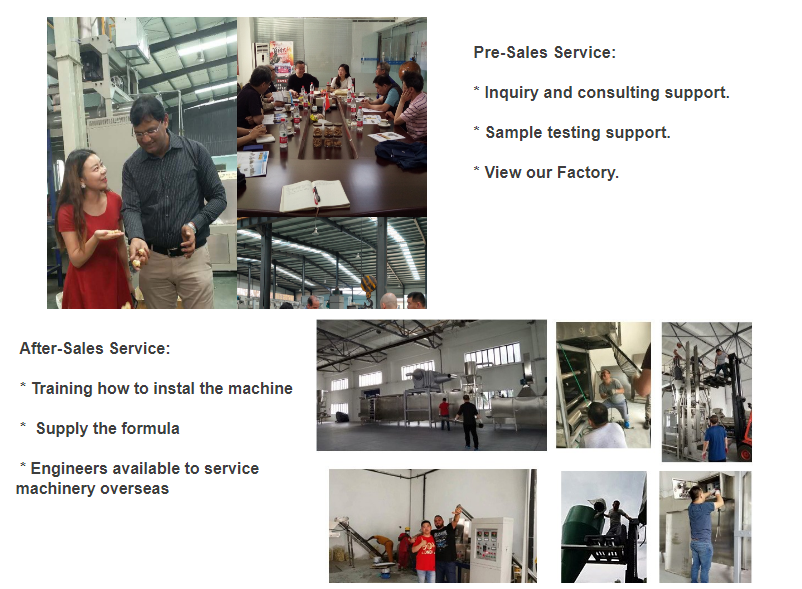 Packing and Loading