Pulling&Cutting machine
The QYDJ-I cutting machine is on the basis of similar equipment at home and abroad, our company engineer combined with market demand to develop a puffed food special equipment. such as macaroni ,sala, crispy rice, pony crisp and so on. The machine high au
Brand:Zhuoheng
Product origin:Jinan City ,Shandong Province ,China
Delivery time:7-15working days
Supply capacity:100-150kg/h 200-250kg/h 300-500kg/h .....

Pulling&Cutting machine
1 Function
The cutting machine function is to make the puffed snacks which out from the extruder pulling, stretching, cutting to produce all kinds of the length of the product. such as pasta, salad, slice, salad bar, rice crust, pony crisp, and so on.
The cutting machine includes cutting system, pulling system, control cabinet. It features traction smooth, uniform cut really achieve a multifunctional, fully functional.Traction cutter with variable speed control, the speed according to the extrusion host discharging the speed of adjustment, and easy to use.

Our company has already exported countries:
Asia { Thailand, Indonesia, East Timor, South Korea, India, Bangladesh, Iran, Saudi Arabic, Turkey, Iraq, Israel,
Kazakhstan, Tajikistan, Uzbekistan, Turkmenistan }
Africa { Nigeria, Benin, Algeria, Egypt, Ethiopia, Ghana, Namibia, Uganda, Zimbabwe}
Europe { Russia, Bulgaria, Ukraine.Poland,Sweden }
North America { Canada }
South America { Brazil, Bolivia }
Oceania { New Zealand }
Our Service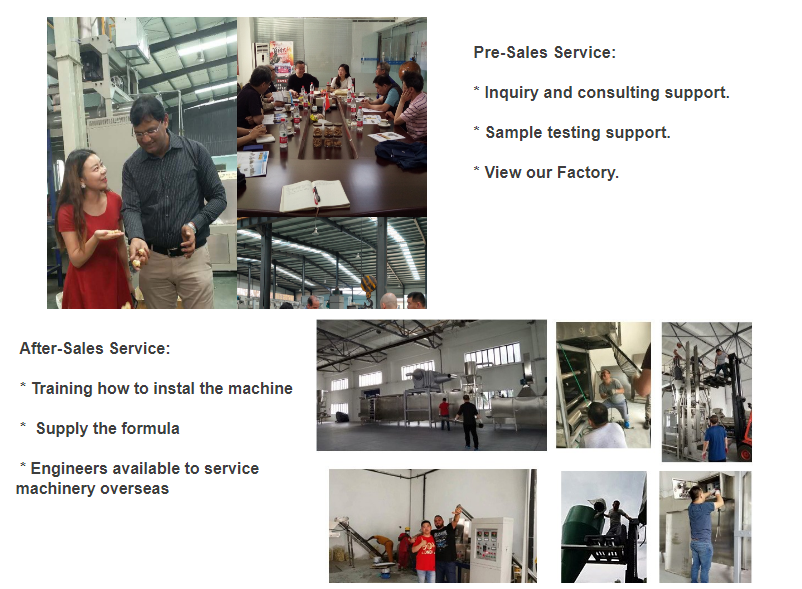 Packing and Loading